Kitchen is the heart of the home and it merges seamlessly with the living areas yet being at the center of attention.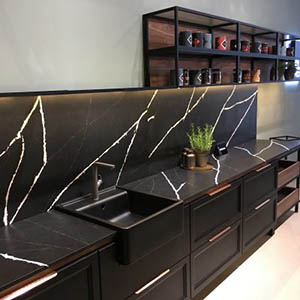 Hiding the basic functions of a kitchen and on the other hand displaying beautiful objects on open shelves or behind glass doors in illuminated vitrines were the central themes at this year's international kitchen trade fair, EuroCucina.
Hob with an integrated extractor such as BORA was an even more frequent sight than before; downdraft extractors were everywhere and usually integrated in a kitchen island. A new trend was a hob stove, induction or gas cooktop integrated in a stone worktop.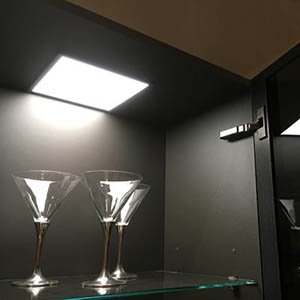 In kitchen design low plinth was the new norm. Carcasses were dark, anthracite or dark grey was the most common color in mechanisms, and hinges were black or dark chromed. Corner hinges were common in aluminium frame doors. Drawers were almost always illuminated and most of them had wooden organizers that help keep items in order. Despite of the commonness of push opening system there were more handles and knobs in the kitchens than at the previous fair.
Lighting was utilized in different ways in the kitchens – light was used to accentuate details and indirect lighting to create a cozy atmosphere. Lighting was also employed in improving ergonomics for example in the earlier mentioned illuminated drawers.
Many of the products and solutions that were seen at EuroCucina at numerous stands, such as BORA, dark grey GRASS NOVA PRO Scala drawer, BOX organizers, CONCEPTA pivot sliding door mechanism, TIOMOS Night and TIOMOS Hidden hinges as well as FRAME shelving system, are already available from Savo. In addition, we are soon bringing to market some very interesting new products… Follow our website and Facebook page and you'll be among the first to see our new products.
Watch our video to see kitchen design trends from EuroCucina 2018.