Finland's most extensive handle collection
Savo brings to market Finland's greatest handle collection – over 1000 current design handles perfectly suited for the market area.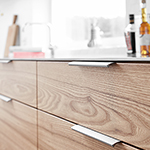 Our new unforseenly broad collection offers an almost unlimited choice of handles – the perfect handle to any style and decor. In addition, our handles will always be current; trendy novelties are introduced to the collection every two years to complement the extensive offering.
Individuality and customer service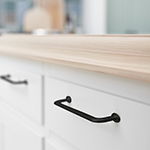 Our customers can order any of over thousand handles and knobs in our collection either to their own individual collections or directly to their customers. Explore our entire collection by viewing the handle catalog online.
We chose 46 current handles to our stock collection which will be updated according to demand. There are both modern and traditional handles in trend colors in the collection. Explore the stock collection handles on our website: https://savo.fi/tuotekategoria/vetimet/
Fast and flexible deliveries
­­­
With our new collection we are also launching a new operating model: our customers can order exactly as many handles and knobs as they need. The stock collection handles will be delivered in 2-3 days as usual. For handles from the broad collection the delivery time will be approximately two weeks.